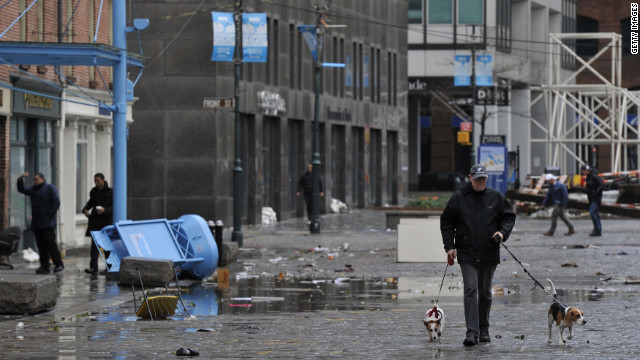 Hurricane Sandy did
damage, no doubt
to the Eastern segment of the financial district. One of the buildings I walk by every day is 199 Water Street, also known as
One Seaport Plaza
. Anchored by Abercrombie and Fitch and having BGC, Aflac, and Aon as its tenants; this building was something nice to look at. Less than a block away from the Seaport itself, it is still under repair and I wonder how this will impact MSC 2007-HQ11. Abercrombie and Fitch is still not up and running. Want to get an expensive egg sandwich and coffee at Europa? Forget about it. BGC Partners was moved to Cantor's mid-town office for a stint as Jack Resnick & Sons tried to return the real-estate to it's pre-Sandy glory.
According to Moody's "the property was 98% leased as of March 2012, compared to 100% at the prior review and 97% at securitization." One Seaport r
epresents 11% of MSC 2007-HQ11
. Just saying. But beyond the questionable cashflows this collateral will eke out going forward, Hurricane Sandy poses larger questions for the insurance district in downtown NYC. Why would any prospective tenant want to secure a major lease in the area after what happened?
GGP/Howard Hughes got lucky
that their beauty was spared the destruction that a lot of the area's businesses could not escape.
It still pains me that I can't get my daily cup of coffee
at the Flavor's at Water and John Street. That business is a great franchise by the way and unfortunately, it looks like it will not be coming back.
It's no secret
that AIG is probably not going to roll it's lease at
180 Maiden Lane
and despite SL Green doing a solid job of turning the lights back on after Sandy in about a month's time; it's hard to blame AIG for wanting to find a more secure and stable location.
I'm not sure if tenants will shift away from the Eastern side of FiDi or stay away from it altogether. Two months out and still, not all the lights are up and running. This could bode well for Midtown but let's see what kind of concessions property owners will make. Their hand is
weak, and wet
.
~Jingle Male