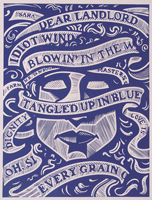 The 2008-C2 deal has since added another large delinquency to its list of problems. Regency Portfolio is a 60-day delinquent $25 mm loan on 20 properties mostly located in Iowa. The sponsor is a CRE firm run by two brothers (Rob and Jamie Myers) who actually come across as rather seasoned regional CRE investors and developers. They had multiple business offshoots, almost all in Iowa, that ran the gamut from shopping center development, to resi developments (
largest
home builder in Iowa). They got overleveraged, and spent too much time at the Resi trough, and just got caught up in the general hype that has crashed our dear market...
They've since had to layoff over 100 employees, defaulted on multiple loans, and been hauled in to court losing numerous
assets
in the fray.
They also owned a boat named the 63' yacht, RegenSea, which brings back memories of another CRE investor who defaulted on a slew of loans - Hurley Booth (Jr.), who owned a 41' footer down in Tallahassee named the ContingenSea. What cute boat names.
Hurley Booth missed some of the limelight when he defaulted on virtually all of his loans at once, because this all happened in late 2007 and early 2008 - right when the news was focused on MBS Companies (Michael B Smuck). Hurley owned a number of student housing complexes around Tallahassee and they are mostly REO now, although Midland has been a little slow to make that move on the loans it controls - not sure why. The loans were spread across three deals: FUNBC 2001-C4, JPMCC 2005-C13, and JPMCC 2006-C14. The Booth
website
has the tagline, "Building a Legacy" - surely they could've come up with something less ironic by now.
Do you know a CRE investor that owns a big yacht? Let us know and we'll see if they're behind on payments. ;-)